Hotel: (03434) 2-12-75,
(095) 301-50-40

Restaurant: (03434) 2-11-48,
(050) 172-86-87
Hotel: (03434) 2-12-75,
(095) 301-50-40

Restaurant: (03434) 2-11-48,
(050) 172-86-87
14 rooms
at the «Krasna sadyba» hotel will give you unsurpassed cosiness and comfort. We offer elegant rooms for every taste — from affordable double economy rooms to 2-room luxury apartments. You can be more comfortable only at home.
The cafe
at the «Krasna sadyba» hotel will always offer quality food. Our cuisine is characterized by rich diversity of European and Ukrainian meat, fish, vegetable and dairy foods, and the cooks of the cafe will do their best, so that your breakfast, lunch or dinner make you feel you've never eaten that delicious.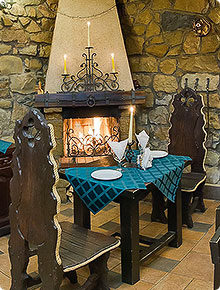 The restaurant
is located inside the kolyba (a building which is given the style of a Hutsulian shepherd's hut). It is located near the «Krasna sadyba» hotel. The spacious hall of the restaurant is perfect for corporative feasts, banquets and family celebrations. You can also order the three musicians to feel the authentic Gutsulian colour.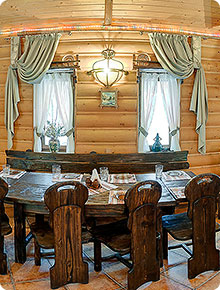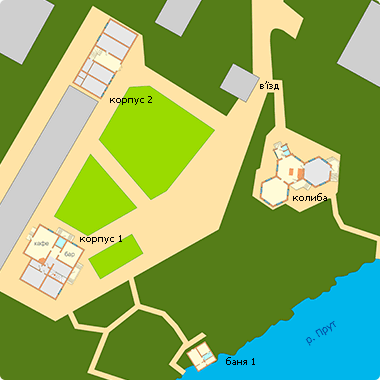 The courtyard
of the «Krasna sadyba» hotel is quite comfortable and spacious, with flowerbeds and lawns, a patio with arbors, a barbecue and a swing. The courtyard can accommodate more than 30 cars at one time. You will not have to look for a place to park your car, and full-time security will ensure your transport is safe.